Carpet Cleaning Tips: From the Pros at PRO!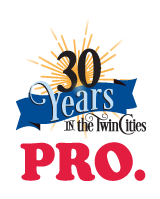 Announcing Our 30 Year Anniversary Celebration! Join Us for some fabulous specials and prizes during 2017 as we celebrate 30 Years Serving the Twin Cities metro area!
Thanks to all of our many happy customers over the years in Minneapolis - Saint Paul, we're able to celebrate this anniversary! Celebrate along with us in 2017 as we offer great deals and prizes throughout the year - click here for details. Check back often, follow us on socials or join our mailing list to get the latest offers and news! Thank you for being our customer!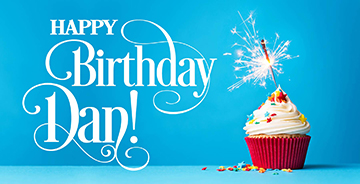 Celebration Kickoff: Happy Birthday Dan! Dan's birthday is March 30th! In honor of this and to kick off our 2017 30 Year Anniversary Celebration, we're offering 30% off your loose area rug cleaning when scheduled and completed between March 30 2017 and April 30 2017, and completed in-home!*
*Not valid on water damage projects, other services or in combination with other offers, $195 order minimum applies. Must mention "Dan's Birthday Special" to receive this offer.
A Note From Dan: "When I started this company 30 years ago, I set out to do the best work possible for my customers. On a mission to serve the community I grew up in, I started out in Saint Paul. As the business grew, I worked hard to maintain standards and commitment to service and results with each carpet cleaning order. I understand that my relationship with my clients is what makes doing business great. Over time, I needed more help. Adding IICRC certified techs who continue their training and education, and also work hard to satisfy customer needs was my next priority. Today, my focus on customer satisfaction still comes first. Our business has become more aware of green carpet cleaning standards. We've continued to train and grow our skills by engaging in each cleaning job fully, recognizing each customer need and completing jobs on time and with care. I'm looking forward to celebrating this 30 Year Anniversary by showing my gratitude to our fabulous PRO customers - you're the ones who make this celebration possible!"
Check out the 2017 Celebration Prizes: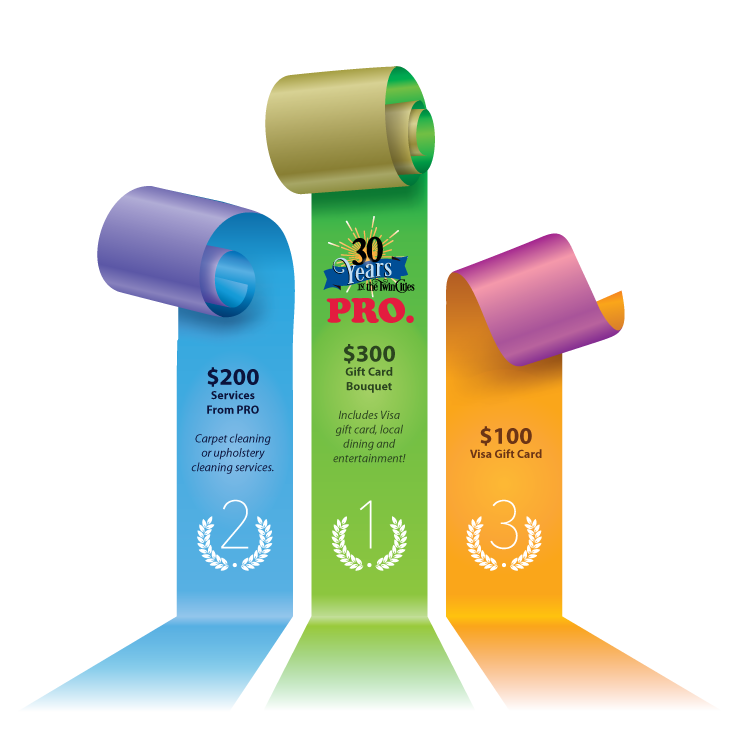 August 30th Celebration Drawing to include one First Prize of $300 Gift Card Bouquet (including Visa gift card, local dining and entertainment), one Second Prize of $200 Services From PRO (Carpet cleaning or upholstery cleaning services), and one Third Prize of $100 Visa Gift Card! Click here to learn more >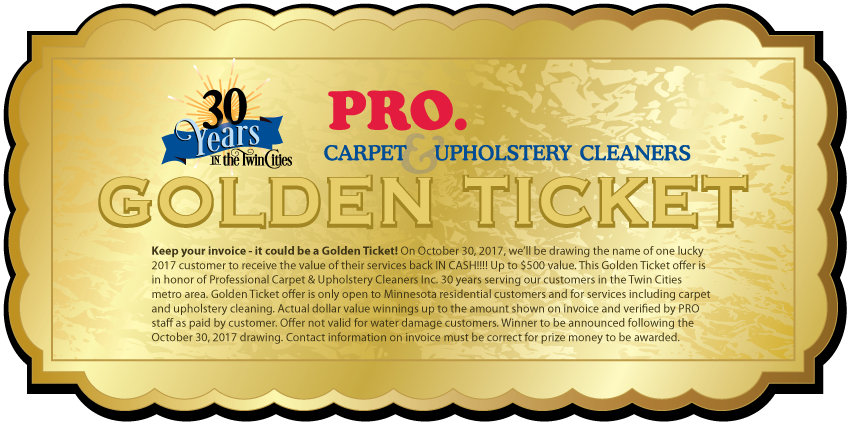 Keep your invoice - it could be a Golden Ticket! On October 30, 2017, we'll be drawing the name of one lucky 2017 customer to receive the value of their services back IN CASH! Learn more >
Remember to check out the prizes and specials as they come up throughout the year. For easy reminders, follow Professional Carpet & Upholstery Cleaners Inc. on social media, check back here on the website, or just call: 651-645-0244!
Custom Carpet Cleaning - Safe and Green! When you call the professionals at PRO, we're happy to accommodate your request for a completely green carpet cleaning! Just let us know you prefer vinegar or plain water over standard carpet cleaning products, and we will happily adapt our process to meet your request. We're interested in helping you maintain cleaning standards that meet the special needs or desires of your household. Just ask!
All tips provided by Professional Carpet & Upholstery Cleaners are recommendations for a best-practice process and may not be indicated for certain types of fiber. Please check with your manufacturer, manufacturer's warranty or call the professionals at PRO with any questions about the application of this process. This tip is presented as a guideline only, and Professional Carpet & Upholstery Cleaners does not warranty or guarantee results of this process unless recommended for the specific fiber type upon inspection.
Back to Carpet Cleaning Tips home >

We're A+ Rated!
Ask us about our current customer satisfaction ratings and Professional Service Guarantee!