Carpet Cleaning Tips: From the Pros at PRO!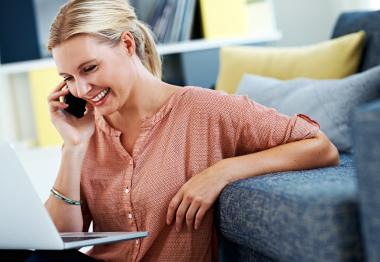 Autumn 2013 Carpet Cleaning Tip from PRO:
Customer Service:
"Just Give Us a Call!"
Plus a special Customer Appreciation Coupon!
This fall, we're sitting down with Professional Carpet & Upholstery Cleaners Inc. owner Dan N. for a brief interview about customer service. Dan comments about what makes his service and team stand out, and in particular how he welcomes customer calls and questions. Interested? Read on, and look for our special note of thanks at the end of this article!
Customer Service? Just Give Us a Call!
Q. Good afternoon Dan, and thanks for your time today! Customer service seems to be a common topic for many businesses, maybe we could start with what customer service means to you?
Dan. Absolutely. Beyond technical abilities and industry knowledge, how we relate to our customers on a daily basis is the driving force behind our business. Our ultimate goal is connecting with each customer and meeting individual, specific needs when it comes to carpet cleaning and fiber care. We do that by listening, taking the time to answer questions, and respecting our customers' goals.
Q. That sounds pretty straightforward, but is there something that makes PRO stand out as a carpet cleaning service?
Dan. Yes: Our willingness to come back. If you have a problem or question about service you've received, call on us. We will be interested and responsive, and keep your wishes in mind.
Q. Can you give some examples of instances where individuals have called you back, and the results of those conversations?
Dan. Sure. One call we receive occasionally is about dry times. A customer recently called us back after a service visit, noting that her carpet was taking considerably longer to dry than her last carpet cleaning. As we talked, we discovered that her earlier visit was on a cooler day with lower relative humidity and dew point, and she had her windows open. On the day in question, humidity was higher, so the solution was closing the windows and running air conditioning for a few hours. She called again later with completely dry carpet and words of thanks! Another common situation is one in which a customer questions the value of cleaning, versus replacement, and this is where some of our specific expertise can really be put into service.
Q. How so?
Dan. With technicans as experts and 30 years of carpet cleaning experience, we can help weigh the benefits and offer specific costs and likely outcomes when attempting to clean deeply soiled carpeting or upholstery. This includes situations with pets or where very noticeable stains are present. When you are fully informed, you can be confident in your decision, either for cleaning or replacement. Our technicians are knowledgeable and experienced and can recognize and assess situations where you may save money or get better results, and they are genuinely interested in a positive outcome for you.
Q. And what if a customer calls back with a problem, such as a really stubborn stain, and treatment that did not seem to work?
Dan. Although stain removal results can be subjective, we will work with you to get the results we state we can achieve. We will let you know up-front if we recognize the possibility of needing to return for a second pass, and if we need to return and clean a stain or spot, we follow through.
Q. Thanks again Dan, for taking the time to talk today! Do you have any parting comments about customer service?
Dan. You're welcome! Ultimately, we just want our customers to know that we welcome all calls and questions, and we are in earnest when we say that. We also appreciate customer feedback, so even if it is just a comment about how things went and your experience of the results, just give us a call!
Questions? Feedback? Give us a call at 651-645-0244!
It's Customer Appreciation Week at PRO! We would like to say "Thank You!" Schedule your carpet cleaning by September 20, 2013 and receive 20% off your carpet cleaning order.*

*For work scheduled between September 13-20, 2013, and to be completed by October 31, 2013. Mention coupon at scheduling. Coupon must be presented at time of service (either printed or digital). Not valid for water damage or in combination with other offers. Order minimum applies.
Custom Carpet Cleaning - Safe and Green! When you call the professionals at PRO, we're happy to accommodate your request for a completely green carpet cleaning! Just let us know you prefer vinegar or plain water over standard carpet cleaning products, and we will happily adapt our process to meet your request. We're interested in helping you maintain cleaning standards that meet the special needs or desires of your household. Just ask!
All tips provided by Professional Carpet & Upholstery Cleaners are recommendations for a best-practice process and may not be indicated for certain types of fiber. Please check with your manufacturer, manufacturer's warranty or call the professionals at PRO with any questions about the application of this process. This tip is presented as a guideline only, and Professional Carpet & Upholstery Cleaners does not warranty or guarantee results of this process unless recommended for the specific fiber type upon inspection.
Back to Carpet Cleaning Tips home >