Carpet Cleaning Tips: From the Pros at PRO!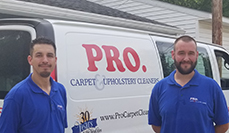 Summer Carpet Cleaning Tip: Meet the Techs, PRO offers Experience and Certified Expertise!
We return with another installment of Meet the Techs for our Summer Carpet Cleaning Tip! When you are hiring a carpet cleaning service, you're hiring more than just a company and their reputation - you're choosing who will visit your home and perform the work - your carpet cleaning technicians! At PRO, we realize that our technicians create the experience for each individual carpet cleaning project. Being a local company with over 30 years serving the Minneapolis - Saint Paul metro area, we see the value in our technicians' unique expertise, as well as IICRC certifications. In this tip, we introduce our techs, so you can see why we value them so highly!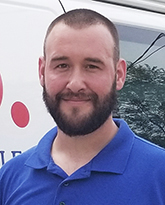 Nate Jacobs on Carpet Cleaning

I've been with PRO for almost a year but I have many years of experience in the carpet and upholstery cleaning industry. One of the best parts of my job is working with people and having the opportunity to accommodate the needs of clients while doing the best job possible every time. I believe it's vital to ask questions and learn what is important to customers in the cleaning process. The combination of being experienced in carpet care, as well as being IICRC Certified, equates to a great depth of expertise that I can draw from to produce superior results for each customer. To that end, I'm certified in Carpet and Upholstery Cleaning, and Water Damage, and I'm currently working toward my Master Textile Certification. In addition to my professional goals, I also enjoy travel and furthering my education.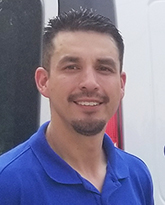 Fernando Sifuentes on Specialty Care

I'm new to PRO, but have several years' experience in the industry. One of my favorite aspects of my job is geting to know customers and knowing they are satisfied with what we've done for what is often their biggest investment - their home! I feel I have accomplished my best work when I've helped to develop a lifelong relationship and the best cleaning or restoration experience possible. I have several IICRC Certifications, including Water Damage Restoration, Mold and Lead, and I'm looking forward to my next training and certification opportunity! Outside of helping customers and my professional goals, I especially enjoy time with with my kids.
From the Owner: Carpet Cleaning and Service Excellence
Thanks for reading! I'm Dan, owner of Professional Carpet & Upholstery Cleaners, Inc. We are enjoying our 31st year in business, serving Minneapolis - St. Paul. We're proud of our great service record, such as 5-Star Yelp reviews, and our consistent A+ BBB rating. We feel that our excellent ratings truly reflect our desire for service excellence. When you call, I'll listen to your needs and wishes for your carpet cleaning, whether home or business. Nate and Fernando will also listen on their arrival, to whether there is a potential chemical allergy, desire for less chemical use, or just an overall wish to better influence the environment with a green cleaning choice. We know there is a real comfort in having someone trusted do the cleaning work for you. You really can count on us to do great work! Thank you for taking the time to read this tip and feel free to call me any time with your carpet cleaning questions!
Beyond offering green carpet cleaning, we'd like to offer a little something extra this month: Our Hot Deal for Summer! Schedule and complete your carpet cleaning between Friday August 10 2018 and Friday August 17 2018 and receive 20% off your order. Not valid for water damage, or in combination with other offers. Order minimum applies. Must mention special at time of scheduling.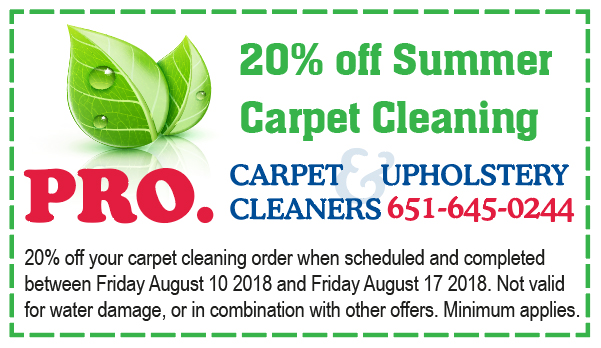 With questions, or to schedule an appointment:
Call today, 651-645-0244!
Custom Carpet Cleaning - Safe and Green! When you call the professionals at PRO, we're happy to accommodate your request for a completely green carpet cleaning! Just let us know you prefer vinegar or plain water over standard carpet cleaning products, and we will happily adapt our process to meet your request. We're interested in helping you maintain cleaning standards that meet the special needs or desires of your household. Just ask!
All tips provided by Professional Carpet & Upholstery Cleaners are recommendations for a best-practice process and may not be indicated for certain types of fiber. Please check with your manufacturer, manufacturer's warranty or call the professionals at PRO with any questions about the application of this process. This tip is presented as a guideline only, and Professional Carpet & Upholstery Cleaners does not warranty or guarantee results of this process unless recommended for the specific fiber type upon inspection.
Back to Carpet Cleaning Tips home >