Carpet Cleaning Tips: From the Pros at PRO!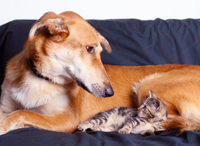 August Carpet Care Tip from PRO: When Pet Accidents Happen...
No one's to blame... accidents happen! But cleaning up after pet accidents can be a chore, especially where your carpet is concerned. This month, we'll cover the basic steps to carpet cleanup emergencies with pets. This procedure works well in the typical home setting, but of course, we are always here to answer your questions or complete a professional cleaning, if you prefer!
Pet accident cleanup: What to do about the doo-doo
1. Clear the area around the accident and use a paper towel or napkin to remove or lift any waste matter
2. Soak a clean, white towel in warm water and wring to damp
3. Blend two tablespoons of white vinegar with one pint of water, and add the mix to an empty spray container
3. Spray the area generously with vinegar solution
4. Blot area with wet towel: do not rub carpet... Blotting gently, but repeatedly, will protect carpet fibers from fraying and damage
5. As stain is lifted from carpet fibers into towel, turn stain-side of towel away from carpet and apply fresh side
6. Repeat as necessary, using additional vinegar spray as needed
(odor, and any stain, should be eliminated)
7. Any tough, remaining stain can be professionally removed
(call to request service and let our technicians know you've pre-cleaned the area)
About Cleaning with Vinegar: Vinegar and water solutions are a great, and green, way to clean many areas of your home. You won't be introducing any unknown or harsh chemicals, and vinegar is also inexpensive! Thousands of vinegar cleaning solutions are available in an online search, too!
Give us a call at 651-645-0244!
Custom Carpet Cleaning - Safe and Green! When you call the professionals at PRO, we're happy to accommodate your request for a completely green carpet cleaning! Just let us know you prefer vinegar or plain water over standard carpet cleaning products, and we will happily adapt our process to meet your request. We're interested in helping you maintain cleaning standards that meet the special needs or desires of your household. Just ask!
All tips provided by Professional Carpet & Upholstery Cleaners are recommendations for a best-practice process and may not be indicated for certain types of fiber. Please check with your manufacturer, manufacturer's warranty or call the professionals at PRO with any questions about the application of this process. This tip is presented as a guideline only, and Professional Carpet & Upholstery Cleaners does not warranty or guarantee results of this process unless recommended for the specific fiber type upon inspection.
Back to Carpet Cleaning Tips home >