Carpet Cleaning Tips: From the Pros at PRO!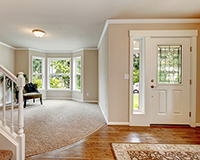 Spring Carpet Cleaning Tip: Getting Ready for Your Carpet Cleaning Appointment
When our technicians arrive, they will discuss your carpet cleaning project and any particular concerns or issues you would like to address. You can plan on professionalism and courtesy from start to finish! But many customers ask how they can best prepare for their carpet cleaning visit. Our spring carpet cleaning tip answers that question!
How to prepare for your carpet cleaning appointment:
1. Since you have likely already decided on the areas you want cleaned during your appointment scheduling, you'll want to prepare the areas discussed, along with the clearest access points (such as doorways and hallways) in your home
2. Any delicate items on the carpeting or adjacent areas can be placed away from the area to be cleaned, to safeguard during cleaning
3. If you choose to move furniture, that can be done as well, but rest assured we are happy to move furniture as we work
4. Check your carpeting for small objects prior to the cleaning appointment, especially if children use small toys in the room, this will prevent the loss of any items during the vacuuming process
5. You may choose to vacuum the carpeting prior to our arrival if you wish, however we will pre-vacuum if needed
6. Check carpeting for any heavy traffic areas or spots that require special treatment or stain removal - be prepared to point these out to our technicians when they arrive (our technicians may have recommendations on how to best treat stains on an individual basis)
7. If you have pets, be prepared for their possible reaction to guests and/or some unfamiliar noises as we work - have a designated place for ready pets if you wish
8. If the weather is good, and humidity is low, planning to open windows following carpet cleaning can help to speed upthe drying process; if there is high humidity, running your air conditioning during the drying process can also be helpful if you want carpet to dry more quickly
9. The final step? Be prepared for a great experience with the professional and courteous technicians at PRO!
Beyond offering green carpet cleaning, we'd like to offer a little something extra this month: a Spring Carpet Cleaning Offer! Schedule your spring carpet cleaning between April 24 and May 8, 2015 and receive 20% off your carpet cleaning order when your appointment is scheduled to be completed by May 31, 2015.
(coupon has expired)
With experience and confidence, we can both make informed decisions about carpet cleaning for your home environment and the environment at large. Learn more about our safe carpet cleaning process or contact us directly:
With questions, or to schedule an appointment:
Call today, 651-645-0244!
Custom Carpet Cleaning - Safe and Green! When you call the professionals at PRO, we're happy to accommodate your request for a completely green carpet cleaning! Just let us know you prefer vinegar or plain water over standard carpet cleaning products, and we will happily adapt our process to meet your request. We're interested in helping you maintain cleaning standards that meet the special needs or desires of your household. Just ask!
All tips provided by Professional Carpet & Upholstery Cleaners are recommendations for a best-practice process and may not be indicated for certain types of fiber. Please check with your manufacturer, manufacturer's warranty or call the professionals at PRO with any questions about the application of this process. This tip is presented as a guideline only, and Professional Carpet & Upholstery Cleaners does not warranty or guarantee results of this process unless recommended for the specific fiber type upon inspection.
Back to Carpet Cleaning Tips home >