Carpet Cleaning Tips: From the Pros at PRO!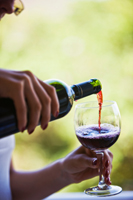 January's Carpet Cleaning Tip:
Red Wine Spills
Throughout the holidays we welcome guests for celebrations of all kinds. Among the many well-known party mishaps: the dreaded red wine spill. This month, we're presenting a quick and easy process recommended by the professionals for handling such an instance, and we'll help you leave the myths behind!
Dealing with a red wine spill in carpet:
1. Don't panic! To prepare, clear the area around the spill
2. Gather clean white paper towels or a plain white towel
3. Soak towel(s) in room-temperature water, and wring to damp, not dripping
(paper towels: white with no printing), (towels: not your kitchen best - stain may remain in towels)
4. Place damp towels over stained area, and blot with even pressure... do not rub carpet, as this can damage fibers
5. As stain is lifted from carpet fibers into towel, turn stain-side of towel away from carpet and apply fresh side
6. Repeat as necessary, using additional clean towels
(wine should be lifted from carpet fiber)
7. If stain remains, lay a fresh damp towel over the area, and cover with a large bowl to keep the area moist
8. Remaining stain can be professionally removed
(call to request service and let our technicians know you've pre-treated the area as above)
Give us a call at 651-645-0244!
What about using white wine? The pros say: There's no need to open additional wine - in many cases, carpet fiber may be completely cleared of a wine stain using plain tap water and the steps mentioned above.
Will this work on an old stain? Pro advice: Working with the stain as soon as possible following the spill will produce the best results - however, give us a call for stain removal. We've been able to successfully remove red wine stains that have been set in carpet for quite some time, and we'd be happy to answer your questions!
Check back for more carpet, upholstery and home-care tips from the pros at Professional Carpet & Upholstery Cleaners!
All tips provided by Professional Carpet & Upholstery Cleaners are recommendations for a best-practice process and may not be indicated for certain types of fiber. Please check with your manufacturer, manufacturer's warranty or call the professionals at PRO with any questions about the application of this process. This tip is presented as a guideline only, and Professional Carpet & Upholstery Cleaners does not warranty or guarantee results of this process unless recommended for the specific fiber type upon inspection.
Back to Carpet Cleaning Tips home >