Professional Upholstery Cleaning: A+ BBB rated!
The Minneapolis resource for natural, safe upholstery care. Serving Minneapolis and St. Paul with upholstery cleaning services for 30 years, we have the experience and expertise to clean all types of fiber. We use a gentle and effective cleaning system to cleanse and rejuvenate your upholstery, without damaging your furniture or leaving behind harsh chemical residues. Our technicians are trained in the care and maintenance of all fabric types, even the most delicate, and are IICRC Certified upholstery cleaners. We clean silk, cotton, microfiber, nylon, polyester, acrylic, and wool upholstery. We'll also customize fiber cleaning, if you have specific desires for a natural, environmentally friendly approach.
Upholstery fabrics vary so greatly that the right cleaning process must be determined individually. Experience is the key and we have 30 years of specialized service. Our technicians are IICRC Certified in upholstery cleaning, and we have cleaned over 50,000 pieces of upholstery—you can trust PRO with your upholstery cleaning!
Watch the video or contact us for an estimate: 651-645-0244.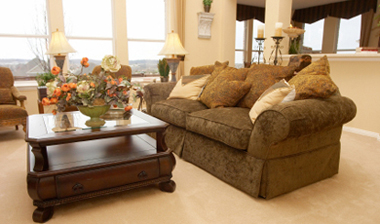 Leather Care: Not only must leather be cleaned, but conditioning is also an important factor in the preservation of leather's softness and luster. The right combination of leather cleaners and conditioners are used to enhance and prolong the original beauty of your leather furnishings.
Contact us now for answers to all your upholstery and leather care questions. We're located in the Minneapolis and St. Paul area, and are now available 7 days a week to provide you with the fiber care treatment and cleaning at your convenience!
Call now for a free estimate | 651-645-0244
Learn about our safe cleaning process >