Carpet Cleaning Tips: From the Pros at PRO!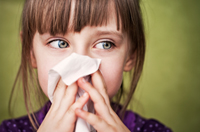 PRO Cleaning Tip
for April 2011:

Alleviating Allergy Symptoms, a How-To Guide You and Your Carpeting
For allergy sufferers, cleaning is important, especially when it comes to fiber care. Not only that, recommendations regarding hard surface flooring, carpeting and other textiles can be contradictory - what's best for you and your family? This month, we'll offer some quick tips about carpet and fiber cleaning for allergy sufferers. Get ready to put down that tissue box, and remember, call if you have any questions - the pros at PRO are here to help!
Allergies and Allergens:
Is It Really You or Your Carpeting?
1. Get the dirt on carpet. Lots of sources tell us that carpeting is worse for allergy sufferers than hard flooring, such as wood or tile. However, the latest research recommends that with the proper care, carpeting and rugs may actually help alleviate allergy symptoms. The proper care is important, though. Check out this great article about Carpet & Allergies from Shaw for details.
2. Twice is right. Experts recommend vacuuming twice per week for maximum benefit for those with allergies. Yes, carpeting can collect particles, such as dust mites, mold and other allergens, but vacuuming regularly will keep these irritants from settling too deeply into carpet fibers.
3. No one's to blame. All of your home's surfaces can attract and keep dust and other particles too close for comfort - dusting with a towel or electrostatic duster, or even a vacuum attachment, will extract allergens - instead of spreading them (such as with a feather-duster). Regular hard-surface floor cleaning will also improve your home's atmosphere: a clean surface is more difficult for particles to adhere to.
4. Check with an unbiased source. The Carpet and Rug Institute offers tons of tips, suggestions and recommendations about carpet - based on quality research intended to benefit consumers and the environment, and guide those in the industry. Yes, there are really people who research fiber care all day long!
5. Check your options! Use quality recommendations, from trusted sources, to make the best choice for you, your family, and your investment. Carpet care can be tricky, but contacting someone you trust, or reading research from the source, will help you to make cleaning and care choices you'll breathe easier with.
6. Recommended carpet cleaning doesn't mean more chemicals. Experts like the CRI recommend your carpets be professionally cleaned once every 12-18 months (or as often as your product manufacturer suggests), but this doesn't mean you need to expose yourself or your family to added potential allergens. Check with carpet cleaning services and select a provider that offers the type of cleaning process you feel most comfortable with - vinegar or plain water extraction, with no chemical additives, is something we suggest regularly to our customers.

Give the pros at PRO a call: 651-645-0244!
Custom Carpet Cleaning - At Your Request! When you call the professionals at PRO, we're happy to accommodate your request for custom carpet cleaning! Just let us know you prefer vinegar or plain water over standard carpet cleaning products, and we will happily adapt our process to meet your request. We're interested in helping you maintain cleaning standards that meet the special needs or desires of your household. Just ask!
All tips provided by Professional Carpet & Upholstery Cleaners are recommendations for a best-practice process and may not be indicated for certain types of fiber. Please check with your manufacturer, manufacturer's warranty or call the professionals at PRO with any questions about the application of this process. This tip is presented as a guideline only, and Professional Carpet & Upholstery Cleaners does not warranty or guarantee results of this process unless recommended for the specific fiber type upon inspection.
Back to Carpet Cleaning Tips home >