Carpet Cleaning Tips: From the Pros at PRO!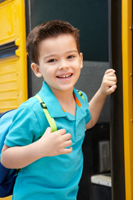 September Carpet Care Tip from PRO: Back to School Mini-Tips!
It's an inspiring time of year! Back to school, children are excited about new teachers, new classrooms, friends and activities. But children of any age can bring home trouble that can mean stains for your carpeting. This month, we'll cover a quick list of back-to-school carpet challenges and their solutions. Read on for our quick and easy checklist: PRO Back-to-School Mini Tips!


Back to School Carpet Cleaning Mini-Tips
Get the dirt. Sure, we love it when our kids are involved in outside play, but tracking into the house can make for a disaster, especially on rainy days. What advice do the PROs have here? "Don't be too quick to scrub," says PRO owner Dan. "If it's just some dirt or mud, allow the area to dry and then vacuum what you can before attempting to clean soil out of carpets." Once you vacuum dry particles from carpet, you can use plain water or a vinegar solution to gently blot out any remaining soil.
Creative but crushed? Crayons are a back-to-school staple, and all too easily left out, only to be stepped on later. If you end up with a dash of unexpected color in your carpet, here's a tip from the PROs: Vacuum all crayon particles out of the area. Remaining small crayon bits that have adhered to carpet fibers can be removed just like candle wax (follow our Candle Wax Removal Tip from earlier this year for specific steps). Remember to be patient, this tip works well but can take a little time.
Watercolor wisdom. Most carpets can and will handle a few spills in their time, and the overturned watercolor wash cup never fails to leave a darkened, murky-looking spot in fibers. If you are confronted with this or any other 'washable' art or craft substance in your carpeting, remember this basic tip from the PROs: Always start with clean, warm water and fresh white towels (to prevent additional marking or color transfer, as well as to clearly see what you have removed during the cleaning process). Repeated blotting may be all that is necessary. Be patient, and avoid scrub brushes, or anything with bristles, that can ultimately damage carpet fibers.
Advice about ink, gum or other similar substances: Some fiber care cleanup can pose a real challenge... either because of the fiber type or the spilled substance itself. If you have a spill or stain you think may be potentially difficult to remove, give us a call! It can also be helpful to check with your carpet manufacturer for details, or check with the product manufacturer (spilled/stain substance). Here are some additional resources related to this month's topic:
Shaw Carpet Care Tips: an online resource for Shaw brand carpet owners, including cleaning and stain removal recommendations.
Crayola Stain Tips & Advice: an interactive cleanup page providing advice on cleaning various products from a variety of home surfaces.
Mohawk Carpet Cleaning & Maintenance: a great resource for homeowners with Mohawk brand carpet or flooring products.
or... Call the PROs at 651-645-0244!
Custom Carpet Cleaning - Safe and Green! When you call the professionals at PRO, we're happy to accommodate your request for a completely green carpet cleaning! Just let us know you prefer vinegar or plain water over standard carpet cleaning products, and we will happily adapt our process to meet your request. We're interested in helping you maintain cleaning standards that meet the special needs or desires of your household. Just ask!
All tips provided by Professional Carpet & Upholstery Cleaners are recommendations for a best-practice process and may not be indicated for certain types of fiber. Please check with your manufacturer, manufacturer's warranty or call the professionals at PRO with any questions about the application of this process. This tip is presented as a guideline only, and Professional Carpet & Upholstery Cleaners does not warranty or guarantee results of this process unless recommended for the specific fiber type upon inspection.
Back to Carpet Cleaning Tips home >