Carpet Cleaning Tips: From the Pros at PRO!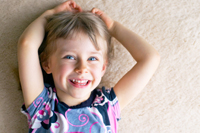 October Carpet Care Tip from PRO: Carpet Drying
The feeling of clean carpeting is fantastic, but sometimes the wait to enjoy your freshly-cleaned carpets can seem long. This month, we'll talk with Dave, lead technician here at PRO and get answers to your carpet drying questions. In addition, we have a special carpet cleaning discount offer this month... in honor of our 25th Year Serving the Twin Cities Metro Area! (see the bottom of this tip for details) We hear a lot on the topic of carpet drying from our clients, and this tip is just another way we can improve your overall carpet cleaning experience - thanks for reading!


Getting Your Carpet Dry - Tips and Answers
First, we asked Dave about the best conditions for cleaning your carpeting. 'The best weather for carpet cleaning is dryer weather', says Dave. 'High humidity can lead to longer drying times, so we recommend selecting a day when the air is relatively dry, and even better, when windows can be open for good air circulation.' Our sense of humidity can be deceiving, depending on air temperature, winds, and other factors, so being informed about weather conditions for the day, maybe from your local weather report, can help set expectations about carpet drying times after a carpet cleaning.
What do customers ask you most about carpet drying? What comments do you get? 'One of the most common comments we hear from customers is that drying times seem to meet expectations on first- and second-levels of homes; however may be a bit slower in basements. This is possibly due in part to lower air circulation in those areas.' Dave adds, 'In these instances, we recommend adding a box-style fan to the space, to aid in the drying process.'
How long should drying typically take after carpet cleaning? 'Most carpets dry thoroughly within 12-24 hours following cleaning, however you will notice a dry-to-the-touch feeling much sooner, say, in 2-3 hours following cleaning, on a day with low humidity.'
Does adding a stain prevention treatment to your carpet cleaning process cause longer required dry times? 'No, adding stain prevention should not change your drying time. We follow a rake-in process for best stain treatment saturation, and this allows for the protectant to be delivered evenly throughout the carpet.'
Do you have other advice? 'Sure - I always think of safety first following a carpet cleaning. If you have areas where hardwood floors, tile, or other surfaces meet your carpeting, place towels in high-traffic areas on the hard surface side. This way, if you need to walk through your carpet while it is still drying, you can dry feet before stepping on to what could potentially become a slippery surface. This is especially beneficial at the bottom of a recently cleaned carpeted staircase.'
Thanks to Dave Moore, one of the PROs at Professional Carpet & Upholstery Cleaners, Inc.
For more information on carpet dry times, ideas for carpet cleaning in more humid weather, and tips of all kinds, give us a call...
Call the PROs at 651-645-0244!

Custom Carpet Cleaning - Safe and Green! When you call the professionals at PRO, we're happy to accommodate your request for a completely green carpet cleaning! Just let us know you prefer vinegar or plain water over standard carpet cleaning products, and we will happily adapt our process to meet your request. We're interested in helping you maintain cleaning standards that meet the special needs or desires of your household. Just ask!
All tips provided by Professional Carpet & Upholstery Cleaners are recommendations for a best-practice process and may not be indicated for certain types of fiber. Please check with your manufacturer, manufacturer's warranty or call the professionals at PRO with any questions about the application of this process. This tip is presented as a guideline only, and Professional Carpet & Upholstery Cleaners does not warranty or guarantee results of this process unless recommended for the specific fiber type upon inspection.
Back to Carpet Cleaning Tips home >