Carpet Cleaning Tips: From the Pros at PRO!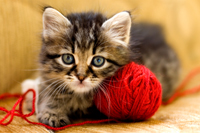 February's Carpet Cleaning Tip:
The Oddball Hairball
Cats are incredible companions, and we love them dearly. However, even with the right diet, your cat may deliver a special gift, the occasional hairball... leaving you and your carpet with a small, but mighty mess! This month, we'll cover some quick steps for kitty cleanup that can treat both potential stains and odors, while being green!
Cat cleanup: rescuing your carpet
1. Use a paper towel or napkin to remove the hairball
(bring to an outside waste bin right away, if possible)
2. Soak a clean, white towel in warm water and wring to damp
3. Blend two tablespoons of white vinegar with one pint of water, and add the mix to an empty spray container
3. Spray the area to be cleaned, generously, with vinegar solution
4. Blot area with wet towel: do not rub carpet... Blotting gently, but repeatedly, will protect carpet fibers from fraying and damage
5. As stain is lifted from carpet fibers into towel, turn stain-side of towel away from carpet and apply fresh side
6. Repeat as necessary, using additional vinegar spray as needed
(odor, and any stain, should be eliminated)
7. Any remaining stain can be professionally removed
(call to request service and let our technicians know you've pre-treated the area)
About Cleaning with Vinegar: Vinegar and water solutions are a great, and green, way to clean many areas of your home. You won't be introducing any unknown or harsh chemicals, and vinegar is also inexpensive! Thousands of vinegar cleaning solutions are available in an online search, too!
Custom Carpet Cleaning - Safe and Green! When you call the professionals at PRO, we're happy to accommodate your request for a completely green carpet cleaning! Just let us know you prefer vinegar over standard carpet cleaning products, and we will happily adapt our process to meet your request. We're interested in helping you maintain cleaning standards that meet the special needs or desires of your household. Just ask!
Give us a call at 651-645-0244!
A word on prevention: The pros say: Vacuuming regularly helps your cat and your carpeting. Keeping your home free of excess hair is helpful for your cat, and regular vacuuming will keep your carpet looking great and smelling fresh, while extending the life of your carpets.
All tips provided by Professional Carpet & Upholstery Cleaners are recommendations for a best-practice process and may not be indicated for certain types of fiber. Please check with your manufacturer, manufacturer's warranty or call the professionals at PRO with any questions about the application of this process. This tip is presented as a guideline only, and Professional Carpet & Upholstery Cleaners does not warranty or guarantee results of this process unless recommended for the specific fiber type upon inspection.
Back to Carpet Cleaning Tips home >
Back to Home
>