Carpet Cleaning Tips: From the Pros at PRO!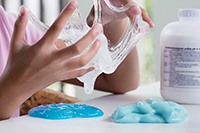 Spring Carpet Cleaning Tip: How To Remove Slime From Your Carpeting
Slime-making at home is a very popular craft activity, but while it's fun and easy, it can come with a price: cleanup! Homemade slime comes in many forms with a variety of ingredients, so care must be taken to check manufacturers' recommendations as well as being aware of product combinations that could cause trouble for your carpeting. In this Spring Tip from the PROs, we'll be talking about a basic slime recipe that includes school glue and a detergent booster. Remember: if your slime recipe included more than these ingredients (especially paint instead of basic glue coloring, food coloring, beads, shaving cream, glitter, etc.) check with the manufacturer, or give us a call before proceeding!
How to Remove Homemade Slime from Carpeting:
1. Gather these household items to get started treating your slime area: paper towels or napkins, bucket of warm tap water, several clean white towels
2. Gently pick larger pieces of the slime from the carpet using napkins or paper towels, (if hardened or dry, gently break off larger pieces)
3. Wet a clean white towel with warm water and wring out (use only white towels, as any other coloring may transfer to your carpet during this process
4. Place the towel over the slime, blot and pluck gently (carefully squeezing small sections of carpet between folds of towel can work well)
5. As slime is lifted from carpet fibers into towel, turn stain/slime side of towel away from carpet and apply fresh side
6. Repeat as necessary until slime is extracted, using additional clean towels, this may require experimenting with more or less water soaked into the towel (take care not to re-introduce slime and colorant into water bucket - use fresh towels)
(glue should begin to dissolve, and stain and remaining slime should be transferred to towel)
7. To finish, blot carpet area with fresh dry towel, and check carpet carefully for any remnants of slime
If you have questions... Give us a call at 651-645-0244!
Important Home Safety: Be sure to keep children and pets away from the area as you work, and do not leave the area unattended.
Will this work on old slime/stain? Pro advice: Working with the slime as soon as possible following the spill will produce the best results. Try warmer water or longer towel application for hardened slime. Still no results? Give us a call! We've been able to successfully remove issues that have been set in carpet for quite some time, and we'd be happy to answer your questions!
Extended Offer: 20% Off when scheduled through Friday June 2, 2017! It's Springtime and time for Spring Carpet Cleaning! Schedule your carpet cleaning between May 24 - June 2, 2017 (for carpet cleaning to be completed by 06-30-2017) and receive 20% off your carpet cleaning order!**Not valid for water damage, or combined with other offers.
**Coupon has expired.**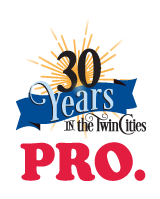 Remember to add your name to our drawing in honor of our 30 Year Anniversary Celebration! Thanks to all of our many happy customers over the years in Minneapolis - Saint Paul, we're able to celebrate this anniversary! Celebrate along with us in 2017 as we offer great deals and prizes throughout the year - click here for details. Check back often, follow us on socials or join our mailing list to get the latest offers and news! Thank you for being our customer!
Custom Carpet Cleaning - Safe and Green! When you call the professionals at PRO, we're happy to accommodate your request for a completely green carpet cleaning! Just let us know you prefer vinegar or plain water over standard carpet cleaning products, and we will happily adapt our process to meet your request. We're interested in helping you maintain cleaning standards that meet the special needs or desires of your household. Just ask!
All tips provided by Professional Carpet & Upholstery Cleaners are recommendations for a best-practice process and may not be indicated for certain types of fiber. Please check with your manufacturer, manufacturer's warranty or call the professionals at PRO with any questions about the application of this process. This tip is presented as a guideline only, and Professional Carpet & Upholstery Cleaners does not warranty or guarantee results of this process unless recommended for the specific fiber type upon inspection.
Back to Carpet Cleaning Tips home >