Carpet Cleaning Tips: From the Pros at PRO!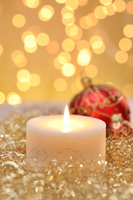 December's Carpet Cleaning Tip: Candle Wax in Carpet
Candles make a lovely addition
to holiday decor, but dripping wax
from traditional candles can make a big mess when it comes into contact with carpet fibers. This month, we're presenting a quick and easy process recommended by the professionals for dealing with this sticky situation.
When candle wax meets carpet:
1. Prepare the area by clearing the space around the wax
2. Gently scrape away excess wax with the dull edge of a spoon
3. Place a brown paper grocery bag over the area
(be sure your grocery bag has no ink or printing of any kind, it should be blank)
4. Apply heated iron to the paper bag for 5-10 seconds
(high heat, no steam)
5. Check to see that the paper bag has absorbed the candle wax
(carpet fibers should be unchanged)
6. Repeat if necessary, using a clean paper bag
7. Remaining wax can be professionally removed
(call to request a high-temperature extraction process and let our technicians know you've pre-treated the area as above)
Give us a call at 651-645-0244!
Check back for more carpet, upholstery and home-care tips from the pros at Professional Carpet & Upholstery Cleaners!
All tips provided by Professional Carpet & Upholstery Cleaners are recommendations for a best-practice process and may not be indicated for certain types of fiber. Please check with your manufacturer, manufacturer's warranty or call the professionals at PRO with any questions about the application of this process. This tip is presented as a guideline only, and Professional Carpet & Upholstery Cleaners does not warranty or guarantee results of this process unless recommended for the specific fiber type upon inspection.
Back to Carpet Cleaning Tips home >
Back to Home
>